Pros
Well regulated
Tight spreads
Low minimum deposit
Good for beginners

Is OANDA Safe?
Founded in 1997 in Delaware, USA as an FX rate provider, Oanda has grown to become a large multi-service financial company offering retail CFD trading, Forex data services for institutions, and exchange rate information on over 38,000 currency pairs.
As an international CFD broker OANDA is remarkably well-regulated, with regulatory oversight from no less than 7 top tier national regulators:
OANDA Asia Pacific Pty. Ltd. is regulated and licensed in Singapore by the Monetary Authority of Singapore (CMS Licence No: CMS100122-4) and the International Enterprise Singapore (Commodity Brokers Licence No: OAP/CBL/2012) to trade commodity CFDs.
OANDA Australia Pty Ltd. is regulated in Australia by the Australian Securities and Investment Commission (ASIC) ABN 26 152 088 349, AFSL No. 412981
OANDA Japan Inc. holds a Type 1 Financial Instruments license from the Japanese Financial Services Agency, registration with the Kanto Local Finance Bureau #2137, and is a member of the Financial Futures Association of Japan #1571.
OANDA Corporation is a registered Retail Foreign Exchange Dealer (RFED) with the U.S. Commodity Futures Trading Commission (CFTC), and a Forex Dealer Member (FDM) of the National Futures Association (NFA # 0325821).
OANDA (Canada) Corporation ULC is regulated in Canada by the Investment Industry Regulatory Organization of Canada (IIROC).
OANDA Europe Limited is authorised and regulated by the Financial Conduct Authority in the UK, No: 542574
OANDA Europe Markets Limited is a company registered in Malta No: C 95813. It is authorised and regulated by the Malta Financial Services Authority as Category 3 Investment
All Filipino clients will be trading with OANDA Global Markets Ltd, which is registered in the British Virgin Islands (No. 2026433), authorised and regulated by the BVI Financial Services Commission, number: SIBA/L/20/1130. Unfortunately, the BVI FSC has a light touch when it comes to regulating forex brokers, and consumers are not afforded the same protection as that of reputable regulatory bodies such as the FCA.  For example, brokers are not required to keep minimum levels of capital, segregate client funds, contribute towards compensation schemes, or outline their policy execution.  
However, OANDA's Filipino clients can be sure that their funds will be kept in segregated bank accounts, but OANDA Global Markets Ltd does not offer negative balance protection, so Filipino traders may lose more than they invest.  Additionally, OANDA offers leverage of up to 800:1 on its account types and has no minimum deposit requirements, which in combination makes it difficult to hold a substantial trading position without getting stopped out and losing the money in your trading account or even incurring a negative balance. On the whole, this is an irresponsible move on the part of the broker.  
That said, OANDA's other subsidiaries are regulated by top-tier regulators, including the FCA from the UK, IIROC from Canada, and MAS from Singapore, and as such, OANDA offers its clients account statements that are regularly audited by external audit firms. 
Awards   
OANDA has won numerous awards for its services and products over the years, such as Best Education Materials 2018 (Investment Trends – US Foreign Exchange Report) and No. 1 Forex Broker in Singapore 2017 (Investment Trends Singapore CFD & FX Report). More recently, OANDA was voted Most Popular Broker and Best Forex and CFD Broker 2020 by TradingView clients in the firm's inaugural TradingView Broker Awards. TradingView is one of the world's largest social networks for traders, boasting more than 15 million registered users around the world.
Overall, because of its history of responsible behaviour, strong international regulation, strict auditing processes, and wide industry acclaim, we consider OANDA a trustworthy broker. 
Scroll for more details


Trading Fees
OANDA's trading fees are higher than most other similar brokers. 
Like most other brokers, OANDA offers three account types with trading costs that vary depending on the account type chosen by a trader. For more on OANDA's account types, click here.  
The Standard and Swap-Free accounts have trading costs included in the variable spreads, while the Core Account offers tighter spreads in exchange for a small commission per trade.
OANDA's accounts were assessed to compare the costs to those of other brokers.  The costs were evaluated based on the trading fees on one lot (100 000 USD) on the EUR/USD, including the spread and commission. 
When making this calculation, we use one lot of EUR/USD as a benchmark as it is the most commonly traded currency pair and it usually has the tightest spread.
Trading Cost Formula: Spread x Trade Size + Commission = Cost in Secondary Currency (USD):
Scroll for more details


As you can see from the table above, spreads on the Standard and Swap-Free accounts are wider than average. The average cost for trading one lot of EUR/USD among similar brokers is about 9 USD per lot. Additionally, even though spreads are tighter on the Core Account, it is prohibitively expensive for traders, with a minimum deposit requirement of 5,000 USD.  Traders should also note that spreads are variable at OANDA, meaning that they will get wider or tighter depending on trade volume and market volatility. 
Scroll for more details


Swap Fees
OANDA charges swap fees for positions that are held overnight.  Interest is paid (or received) for each night a position is held.  In the case of Forex instruments, the amount charged depends on both the positions taken (i.e. long or short) and the rate differentials between the two currencies traded.  Rates are based on a blend of underlying liquidity providers' tom-next SWAP rates, adjusted by the instrument-specific admin fee, and annualised. They are calculated as follows:
Daily financing charge or credit = size of position x applicable funding rate/365.
The swap fees for each financial instrument are published on OANDA's website and are given as a percentage and a cost in USD.  For example, the current long swap rate for one lot of EUR/USD is -5.49 USD, and -1.10 USD for a short position.
Overall, OANDA's ongoing costs are higher than most other brokers. While there are no minimum deposits on the commission-free accounts, an account balance of at least 5000 USD is required to open a Core Account.  Spreads are wider than average on the Standard and Swap-Free accounts but tighten to 0.2 pips on the EUR/USD in exchange for a reasonable commission of 4 USD (round turn) per lot traded.  
OANDA's Non-trading Fees
OANDA's non-trading fees are high compared to other similar brokers.
Some of the most overlooked trading costs are the non-trading fees that are charged by brokers.  These fees can significantly affect your profitability and so should be carefully scrutinised.
While OANDA charges no deposit fees, it charges fees for some withdrawal methods.  For example, a fee of 20 USD (or equivalent) per transaction is charged for bank wire withdrawals. For more on OANDA's deposit and withdrawal methods and fees, click here.
OANDA also charges a monthly inactivity fee of 10 USD to all accounts with no trading for over  12 months, which is reasonable.  Inactivity fees will not be charged when there is an open position.  Additionally, levying inactivity fees will not result in a negative balance on any of your trading accounts.
Overall, OANDA's non-trading fees are higher than similar brokers, with high withdrawal fees on some methods but a reasonable inactivity fee after 12 months of account dormancy.  
Opening an Account at OANDA
The account opening process at OANDA is fully digital, fast, and hassle-free compared to other brokers. 
All Filipino traders are eligible to open an account at OANDA. 
Creating an account is straightforward, the process is fully digital, and accounts are usually ready within one day. OANDA offers corporate and individual accounts, but we will focus on opening an individual account:
How to open an account at OANDA:
New traders will have to click on the "Start Trading" button at the top of the page where they will be directed to register an account.    
OANDA's intake form requires clients to fill in their country of residence, personal details,  (including name, country of residence, and telephone number). 
Next clients must confirm their citizenship, filling in their identity or tax number.
The fourth step requires traders to confirm their home address.
Lastly, traders are required to fill in their employment status and financial details. 
Note that verification documents are not needed for traders who deposit less than 9,000 USD. 
For clients that deposit more than 9,000 USD, OANDA needs at least two documents to accept you as an individual client:
Proof of Identification – OANDA accepts all government-issued identification documents such as Passport, national ID card, driving license, or other government-issued ID. The document must be valid and must contain a trader's full name, date of birth, a clear photograph, issue date, and if it has to have an expiry date, that should be visible as well.
Proof of Address – Proof of residence/address document must be issued in the name of the OANDA account holder within the last 3 months and must contain a trader's full name, current residential address, issue date, and issuing authority.
After the application is approved, traders can log in and fund their accounts.  We advise you to read OANDA's risk disclosure, customer agreement, and terms of business before you start trading. 
Overall, OANDA's account-opening process is quick, efficient, and accounts are generally ready for trading within one business day. 
OANDA's Trading Accounts
OANDA offers three account types, which is average when compared to similar brokers, and the account types are suitable for beginners and more experienced traders.
A market-maker broker, OANDA offers trading on four instruments: Forex, indices, commodities, and precious metals (click here for more on OANDA's financial assets). While only 45 Forex pairs are available, OANDA provides support for the MT4 (and recently) MT5 trading platforms. Three live accounts and a demo account are available, including the Standard Account, the Core Account, and a Swap-free Account for clients of the Islamic faith.
OANDA's accounts are suited to both beginners and more experienced traders. We define beginner traders as inexperienced traders who have never traded before or have been trading for less than a year. Beginners often do not want to risk trading large sums of money, and will generally not be able to trade full-time during the workweek. 
OANDA's commission-free accounts have no minimum deposit requirements, making them accessible to beginner traders.  However, the spreads on these accounts are wider than the industry average, starting at 1.00 pips pips (EUR/USD) on its Standard Account and 1.6 pips (EUR/USD) on its Swap-Free Account.  Most other brokers will offer an average spread of 0.9 pips or lower on their entry-level accounts.  
Experienced traders often prefer higher minimum deposits and tighter spreads, in exchange for a commission per lot.  OANDA's Core Account offers a low-cost trading environment with spreads of 0.2 pips (EUR/USD) in exchange for a reasonable commission of 4 USD per lot.  However, the minimum account balance on this account is 5,000 USD, putting it out of the reach of most traders.   
See below for details of OANDA's accounts: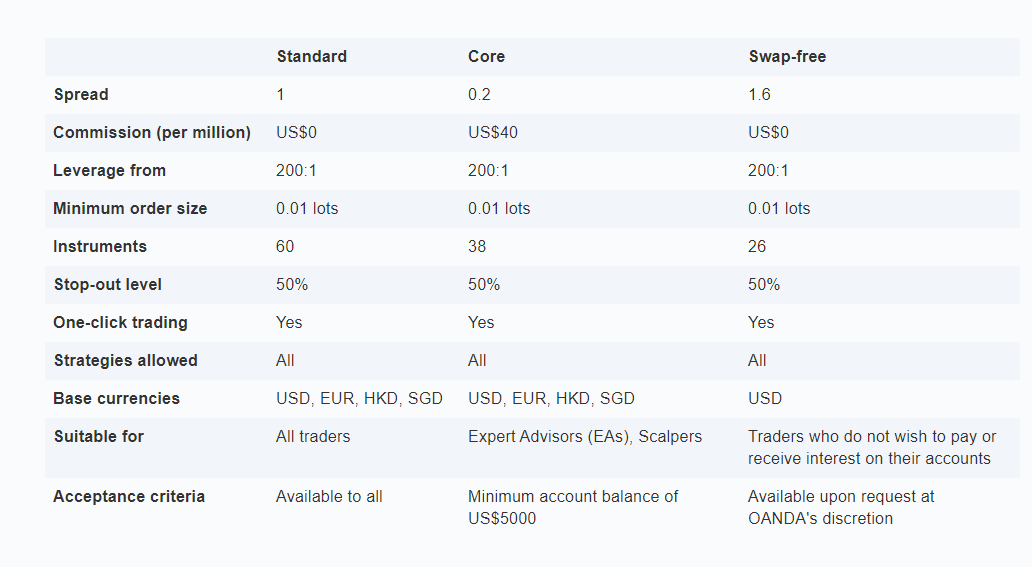 Demo Account
OANDA's demo account mimics the conditions found on the Standard Account and is available with a virtual 100,000 USD balance. The demo account will not expire if you request this from OANDA customer service. 
Standard Account
A commission-free account, the Standard Account has no minimum deposit, leverage of up to 800:1 and access to all tradable instruments.  Spreads start at 1.00 pips pips on the EUR/USD, which is wider than commission-free accounts at similar brokers.  
Core Account
The Core Account offers much tighter spreads than the Standard Account – starting at 0.2 pips on the EUR/USD and charges a reasonable commission of 4 USD per lot. The minimum deposit for the Core Account is 5000 USD and the maximum leverage is set at 800:1.
Swap-Free Account
This account is also commission-free, and as no interest is paid or received spreads are wider than on the Standard Account – starting at 1.6 pips on the EUR/USD. The only base currency supported for this account is USD, but otherwise, it is similar to the Standard Account. Swap-free accounts are opened by first opening a Standard Account and then requesting the change from OANDA's customer service.
Overall, although OANDA caters to both beginners and more experienced traders alike, ongoing trading costs are high on its commission-free accounts and the minimum deposit requirement on its commission-based Core Account puts it out of the reach of most traders.
Scroll for more details


Deposits and Withdrawals
OANDA offers a limited range of funding methods and charges high fees for withdrawals via bank transfer.
In line with Anti-Money Laundering policies, deposits and withdrawals at OANDA cannot be made to/from third-party accounts. While no fees are charged for deposits, OANDA charges fees for withdrawals by bank transfer.  See below for more details:
Scroll for more details


Bank Wire: Bank wire deposits take 3-5 business days and are free. Bank wire withdrawals are charged at 20 USD per transaction and will take 2-4 business days. Be aware that banks may also charge a processing fee, especially in the case of international bank transfers.
Credit/Debit Card: Credit and debit card deposits are processed immediately and are free. Withdrawals to credit/debit cards take 1-3 business days and are also free.
Skrill/Neteller: Deposits with Skrill and Neteller are free and take up to 1 business day – Skrill/Neteller may charge a service fee, however. Withdrawals to Skrill and Neteller take up to 1 business day and are also free, though conversion fees may apply and Skrill/Neteller may charge an additional service fee.
Overall, withdrawals by bank transfer are expensive and OANDA offers few methods for depositing and withdrawing funds.  
Base Currencies (Trading Account Currencies)
OANDA offers four base currencies, which is limited compared to other brokers.  Filipino traders will also be disappointed that there is no INR trading account option.
At OANDA, traders can only choose from four base currencies: USD, SGD, HKD, and EUR. This is limited compared to most other international brokers, and is disappointing for Filipinos who will likely have bank accounts denominated in INR and will have to pay conversion fees on all deposits and withdrawals.  Conversion fees can make trading expensive, and are usually not presented on the fee report, but affect profitability.
However, it should be noted that for traders that trade in large volumes (more than 10 lots a month), it is better to open an account denominated in USD at a digital currency bank, especially for trading on assets such as the EUR/USD. This is because when trading a USD quoted currency pair with another currency account, there will be a small conversion fee for every trade made.
Overall, OANDA offers fewer trading account currencies than most other large international brokers, and doesn't offer accounts denominated in INR. 
OANDA's  Trading Platforms
OANDA offers full support for the MT4 platform and recently added MT5 to its trading arsenal.  This highlights how OANDA continually forms partnerships to improve trading conditions for its expanding client base.
OANDA provides support for the MT4 and MT5 trading platforms and its associated desktop, mobile, and web-based applications. 
Metatrader 4
The MT4 trading platform is the most widely used Forex trading platform and can also be used to trade other instruments like commodities, cryptocurrency, stock index, and stock CFDs. Though it is now showing its age, MT4 is still popular for its auto trading features that enable algorithmic trading and strategy backtesting with expert advisors (trading robots).  
Other features of MT4 include:
A built-in library of more than 50 indicators and tools to streamline the analysis process
An impressive array of analytical tools, available in nine timeframes for each financial instrument.
Algorithmic trading, which allows any trading strategy to be formalised and implemented as an Expert Advisor. 
Customisable alerts
Access to MetaTrader market and MQL4 community.
Metatrader 5
Developed in 2010, MT5 is the newer version of its predecessor, MT4.  MT5 is more powerful and faster than MT4 when it comes to back-testing functionality for automated trading algorithms.  It also has a built-in news feed, market depth indicator, economic calendar, and trades can be made on the charts.  Additional features of MT5 include:
Depth of market display and technical indicators

6 pending stop order types, including Buy Stop Limit and Sell Stop Limit

Improved strategy tester for algorithmic trading and expert advisors (EAs)

In-built market of trading systems & apps

Trading functions and alerts with e-mail and push notifications on mobile devices

Improve precision in forex and CFD trading through trading robots for scalpers

Exchange trading allowed

Forex Signals and Copy Trading

21 time frames and 8 order types

Access to comprehensive analytical tools, with over 80 technical indicators and 44 analytical objects.
Again, only the standard version of MT5 is available at OANDA.  However, support for MT5 means that OANDA can enhance its asset offering, making it more appealing to experienced traders.
The advantage of brokers offering third-party platforms such as MT4 and MT5 is that traders can take their own customised versions with them should they decide to migrate to another broker.  Additionally, there are thousands of plugins and tools available for the MetaTrader platforms.   However, these platforms are not as beginner-friendly as the proprietary platform offered by other brokers.
Scroll for more details


OANDA's Mobile Trading Platform
OANDA offers support for the MT4  and MT5 mobile platforms, which is average compared to other brokers.
OANDA offers support for the MT4 and MT5 mobile trading apps for Android and iOS. Traders should be aware that there is some loss in functionality when compared to the desktop trading platforms, including reduced time frames and fewer charting options, but traders can close and modify existing orders, calculate profit and loss, and trade on the charts.  
OANDA's Trading Tools
OANDA's trading tools are excellent compared to other similar brokers.
OANDA offers a variety of trading tools, including Autochartist, MetaTrader Premium Tools, and a Trading Performance Portal.
Scroll for more details


Autochartist
Autocharist is powerful pattern recognition tool that scans and analyses the markets to identify trading opportunities. Other features of Autochartist include:
Continuous intraday market scanning
Correlating signals: receive email notifications and flag trading opportunities when support/resistance levels coincide with chart pattern projections
Spot potential trading opportunities: get automated alerts about emerging or completed charts, Fibonacci, and key level formations
Review only the forecasts that have historically had a certain level of success probability
Volatility analysis
Set instrument-specific exits based on estimated market volatility
Performance statistics
Customisable daily market reports sent to your inbox
Autochartist is one of the best technical analysis tools on the market, and OANDA does well to offer this tool to its clients.  
MetaTrader Premium Tools
The MetaTrader Premium Tools are a host of powerful forex trading indicators, including an alarm manager, keyboard trading, mini terminal, tick chart trader, and more.  These are provided by FX Blue Labs. You can access over 15 indicators and nine expert advisors in a single download. Popular features such as Renko charts, one cancels the other (OCO) orders, keyboard trading, tick chart trading, and advanced trade management are all included free of charge to OANDA MT4 traders.

Trading Performance Portal
The Trading Performance Portal is a behavioural analysis tool that is designed to help you improve your trading patterns. Powered by Chasing Returns, OANDA's portal analyses your trading history and helps you focus on your strengths while identifying areas you can improve.
Overall, OANDA's offers a comprehensive suite of useful trading tools compared to other similar brokers. 
OANDA's Financial Instruments
The choice of financial assets offered by OANDA is slightly limited compared to other large international brokers, and more advanced traders looking for particular instruments may be disappointed.  
OANDA's range of financial instruments for CFD trading, includes Forex, commodities, metals, cryptocurrencies, and indices.
Scroll for more details


Forex: OANDA has 45 currency pairs available for trading which is around the industry average.  These include majors (EUR/USD, GBP/USD, and USD/JPY), minors (NZD/CAD, EUR/JPY, and USD/ZAR). The leverage on Forex pairs is up to 200:1.
Indices: Limited compared to other brokerages, there are only 16 indices available for trading at OANDA. The most popular indices are those that combine the shares of some of the largest and globally acknowledged companies.  Leverage is up to 1:200 on indices.  
Commodities: OANDA only offers trading on 8 commodities, which is limited compared to other brokers.  Commodities include soft such as wheat and cotton, and energies such as oil. The leverage is up to 1:50 on commodities.
Metals: OANDA offers trading on two metals, including gold and silver. Leverage is up to 200:1 on metals.
Cryptocurrencies: OANDA offers trading on only 4 cryptocurrencies, including Bitcoin, Bitcoin Cash, Ethereum, and Litecoin.  Most other brokerages offer trading on 5 crypto pairs or more.  Leverage is up to 1:10 on crypto trading.
Overall, OANDA offers a limited range of tradable instruments, which may leave some traders dissatisfied. 
OANDA for Beginners
Beginner traders will find OANDA a relatively welcoming experience with a well-structured education section available for traders with different levels of experience. Considering OANDA's history as an FX data service, it's no surprise that the market analysis is detailed and excellent. Customer service in Philippines is limited in scope.
Educational Material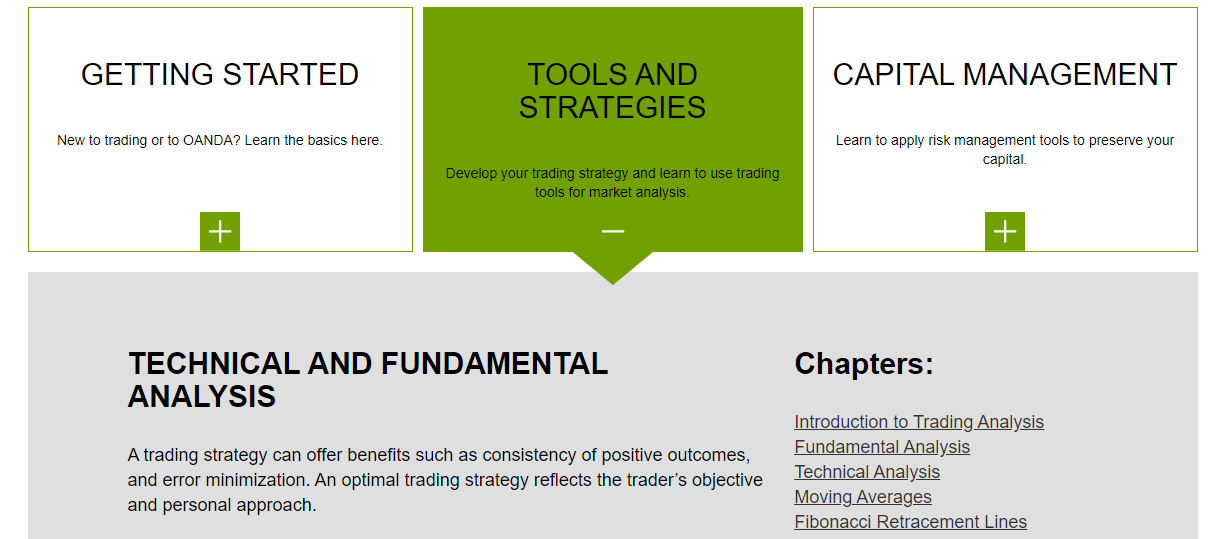 The education section is not easily discoverable on OANDA's website. It is not linked from the menus across the top of the page and can only be found in the menus at the bottom of the page. Whether this is intentional or an oversight is unknown.
Once discovered, education at OANDA is split into three subsections: Getting Started, Tools and Strategies and Capital Management. Information is detailed and helpful and is presented in a mixture of video and text.
The Getting Started section covers the basic aspects of Forex CFD trading such as leverage and margin and introduces traders to the MT4 platform. The Tools and Strategies section covers analysis and explains how traders can use various technical analysis tools to better predict the markets an essential skill for successful traders. Finally, the Capital Management section covers risk management and how to apply it in real market conditions.
Alongside these tutorials, OANDA also hosts frequent webinars on all aspects of trading, including the Basics of Trading and Live Market Analysis. Past webinars are also stored in an archive and are available on demand. Webinars and the webinar archive are free but do require registration with your name and email address.
Scroll for more details


Analysis Material
OANDA's analysis section is excellent compared to other brokers, curated by its in-house analysts and third-party provider, Market Pulse.
Market analysis is supplied by OANDA's MarketPulse service. MarketPulse is an award-winning news site that delivers round-the-clock commentary on a wide range of asset classes, as well as in-depth insights into the major economic trends and events that impact the markets. 
The 24/7 coverage at MarketPulse is provided by six expert analysts and professional traders with decades of experience covering and trading the full range of markets. All analysis is detailed, accurate, and posted within minutes of a market event occurring.
In addition to MarketPulse's text-based coverage, regular videos and podcasts are also published.
Customer Support
Customer support is only available in English, Chinese, Spanish, and German. Support is available via email and live chat 24/5, but no specific times are published. For the purposes of this review, we found the customer support to be responsive but not knowledgeable of OANDA's products and services.
Evaluation Method
We value transparency and openness in the way we review the partners. To bring transparency to the forefront, we have published our review process that includes a detailed breakdown of the OANDA's offering. Central to that process is the evaluation of the reliability of the broker, the platform offering of the broker and the trading conditions offered to clients, which are summarised in this review. Each one of these is graded, and an overall score is calculated and assigned to the broker.
OANDA Disclaimer
Trading Forex is risky, and each broker is required to detail how risky the trading of Forex CFDs is to clients. OANDA would like you to know that: Trading our Products is high risk and can result in losses that exceed the total sum you have invested. All negative balances are payable.
Overview
A globally popular with an impressive history and a large non-CFD business, OANDA is relatively disappointing as a CFD provider. Only 45 FX pairs are available to trade, alongside a small range of commodities, indices, cryptocurrencies, and metals, and support is offered for the MT4 and MT5 platforms. While there is no minimum deposit on the Standard Account, trading conditions are average at best, and no negative balance protection is provided for Filipino traders. Customer service is not available via telephone, but education and market analysis are excellent and OANDA provides a host of tools and plugins for MT4 and MT5.
Compare Brokers
Find out how Oanda stacks up against other brokers.