Pros
Great platform choice
Tight spreads
Wide range of FX pairs
24/7 customer service
Cons
Extreme leverage
Unavailable in Europe
Limited range of share CFDs
Is Exness Safe?
Exness' exit from the UK/EU retail market following the regulators' restrictions intended to safeguard traders does not speak highly of the group. However, Exness is regulated by multiple second-tier authorities including Cyprus's CySEC and the South African FSCA.
FSA Regulation: Filipino traders will be trading with Nymstar Ltd, which is authorised and regulated by the FSA in Seychelles.  
Safety Features: Although Filipinos will be onboarded through the FSA Seychelles, we still consider Exness a safe broker to trade with. Firstly, it holds licences from a number of regulators worldwide. Secondly, it provides all clients with negative balance protection, which means that traders cannot lose more than their initial deposit. Finally, it is regularly audited by Deloitte, one of the world's most reputable audit firms.  
Company Details:
Scroll for more details


We confirmed each of the licences and regulations on the regulator's online register. See below for details of Exness's FSA-regulated entity:
Exness's Trading Instruments
We were impressed by the large number of Forex pairs available at Exness. It also offers a decent crypto lineup, but with extreme leverage – of up to 400:1. Where it falls down is in the number of stock CFDs available to trade, limited to only 70 instruments. 
A large number of Forex pairs: With over 100 Forex pairs on its books, Exness offers one of the largest sets in the industry, including majors, minors, and exotics.
High Leverage: Exness does have 34 cryptocurrencies to trade at 400:1 leverage. This isn't the largest selection in the world, but it is a higher level of leverage for crypto trading than any other broker.  The high leverage on the crypto CFDs is very unusual given the volatility of these assets, and traders are advised to use lower levels than the maximum offered. 
Full List of Instruments and Leverage:
Scroll for more details


Forex pairs: Exness offers a much larger range of Forex pairs than other brokers. It also offers much higher leverage.  
Cryptocurrencies: Exness offers a good range of crypto crosses, most of them Bitcoin, including BTC/ZAR and BTC/XAU. Also available are Ethereum, Litecoin, Ripple, and other specialty cryptocurrencies. The maximum leverage is 1:400, which is much higher than other brokers. Traders should be aware that trading with this type of leverage on such a volatile asset is very risky. It can lead to increased profits, but also to big losses.
Metals: Exness offers silver and gold crosses with the AUD, EUR, GBP, and USD as well as palladium and platinum futures. Maximum leverage is 1:2000 on gold but falls to 1:100 on platinum and palladium futures.
Energies: Exness offers spot contracts on both Brent and WTI oil, this is a slightly limited range compared to other brokers.
Indices: Exness offers CFDs on a range of international indices, including the NASDAQ, S&P500, FTSE100, DAX30, and the Nikkei. This is a similar range of indices compared to other brokers. 
Shares: Exness offers a smaller range of share CFDs than those of other brokers. When trading stocks, leverage is fixed at 1:20 except on the dates on which a stock company's financial reports are announced, where there is an increase of margin to 1:5 to protect traders from possible market price gaps.
Exness' Accounts and Trading Costs
Exness offers 9 accounts, which is many more than other brokers. Some of the accounts are suitable for beginners, while others may appeal to more experienced traders. 
Trading Fees: We opened and tested all of Exness's accounts and found that its trading costs are slightly higher than average on its Standard accounts but significantly lower than average on its Pro accounts. 
Account Trading Costs
Scroll for more details


As you can see from the table above, trading costs are a little higher than average across all three of the Standard Accounts – most good brokers' entry-level accounts have a trading cost of 9 USD per lot of EUR/USD traded.  However, with no real minimum deposit requirements to speak of, these are still good accounts for beginner traders. The fees are particularly low on the six Pro accounts, with trading costs of only 6 – 7 USD per lot of EUR/USD traded. 
MT4 support is available on all account types, but MT5/Exness web trader support is slightly restricted – see below for details:
Standard Cent Account (MT4 only) – With a 3 USD minimum deposit, micro-lots unlocked, and spreads as low as 0.3 pips, this is a great account for new Forex traders who want to learn without too much risk. However, as you can see below, spreads are closer to 1 pip on this account:
You will only be able to trade Forex and metals with this account and the MT5/Exness web trader trading platforms are not supported.
Standard Account (MT4/MT5/Exness web trader) – This account also only requires a 3 USD minimum deposit and trading conditions are broadly similar to the Cent Account, but you will have access to MT5/Exness web trader and more assets, including cryptocurrencies and indices.
Raw Spread Account (MT4/MT5/Exness web trader) – This account has a minimum deposit of 500 USD, a 3.50 USD (7 USD round turn) commission, and spreads that start at 0 pips on the EUR/USD. It is available on MT5/Exness web trader.
Pro Account (MT4/MT5/Exness web trader) – The single instant execution account offered by Exness, this account has a minimum deposit of 500 USD and spreads that start at 0.6 pips (EUR/USD) but guarantees no slippage. It is available on MT5/Exness web trader.
Zero Account (MT4 or MT5) – This account has a minimum deposit of 500 USD and 3.50 USD (7 USD round turn) commission but traders are guaranteed 0 pip (EUR/USD) spreads for 95% of the trading day on 30 pairs. It is also available on MT5/Exness web trader.
All accounts feature market execution, apart from the Pro Account, where instant execution is provided for all CFDs, except on cryptocurrencies. All accounts are available as swap-free Islamic accounts for Muslim traders.
Exness's Deposits and Withdrawals
We were impressed by Exness's wide range of deposit and withdrawal methods. Additionally, we were pleased that deposits and withdrawals are instant and have no fees, making funding your account (and withdrawing profits) much cheaper and easier than most other brokers.
In line with Anti-Money Laundering policies, deposits and withdrawals at Exness cannot be made to/from third-party accounts, and all non-profit funds are returned to the original deposit source. 
Accepted Currencies: When we opened our account at Exness, we were given the choice of more than 40 base currencies, including INR. Most other brokers only offer 5 – 10 base currencies, so Exness really shines on this front. This is a huge advantage for Filipino traders who will likely have bank accounts denominated in INR and will have the option of avoiding conversion fees.
Funds can be deposited in several different ways including Credit Cards, bank wire transfers, Neteller, Skrill, and a few other online payment systems through Exness's payment portal.
We tested deposits and withdrawals in INR via a Visa credit card and found that our deposit was processed almost instantly and it took 24 hours for our withdrawal to arrive in our account. This withdrawal time is faster than the industry average.
Opening an Account with Exness
We found the account-opening and verification process at Exness easy. Our account was verified within 48 hours, which is longer than average, but we were able to make a deposit and start trading while we waited.  
It took us about 5 minutes to open an account at Exness. We could immediately deposit funds into our accounts and start trading, but our accounts were only ready for trading after two days.
From the Exness homepage, we clicked on the New Account tab where we were directed to register an account.    
Exness' registration form required us to fill in our country of residence and email address and choose a password. This allowed us access to Exness Personal Area. 

By default, a real trading account and a demo trading account (both for MT5) are created in the new Personal Area; but it is possible to open new trading accounts.

From our new Personal Area, we clicked on the Open New Account in the 'My Accounts' area.

We chose from the available trading account types, and whether we wanted to open a real or demo account. We then chose between the MT4 and MT5 platforms, set our max leverage, and chose our account currency (note that this cannot be changed for this trading account once set): Finally, we created a nickname for this trading account, set the trading account password and clicked Create an Account.



Our new trading account appeared in the 'My Accounts' tab.

While you can deposit up to 2000 USD and trade for 30 days without account verification, it is recommended that you verify your identity as soon as possible. Note that deposits with cryptocurrency or bank cards require a fully verified profile.
Exness will also need:

Your Economic Profile – this is a short questionnaire detailing your economic knowledge and financial background.

Proof of Identification – Exness accepts all government-issued identification documents such as Passport, national ID card, driving license, or other government-issued ID. 

Proof of Address – Proof of residence/address document must be issued in the name of the account holder within the last 6 months and must contain a trader's full name, current residential address, issue date, and issuing authority. 

Once verification is complete, traders will be able to deposit up to 50,000 USD. If your Exness account is not verified within 30 days of account registration, deposits, transfers, and trading functions will no longer be available.
Our documents were checked by the verifications department and were approved in around 40 hours, which is longer than the industry average. 
Exness's Research and Trading Tools
Exness offers comprehensive research in both video and written formats, but we were disappointed that Exness offers no trading tools, apart from a standard VPS service and Trading Central's indicator service. Most other brokers offer a range of tools to assist traders with finding opportunities and making analyses.
Research
Most of the research content is presented in the analysis blog, which is updated every few days with thoughtful insight on recent and future events across a range of CFD markets. Dow Jones news is also available to clients with MT4 accounts, while FXStreet is available on Exness' web trader platform.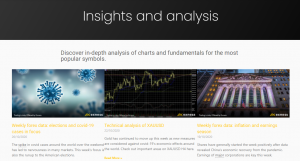 Of course, a standard economic calendar is available, but Exness also presents a daily video of upcoming market events to watch out for with a brief technical analysis. This is provided by Trading Central but is still useful for new traders.
Trading Central (TC) Indicator 
One of our favourite indicators, the TC Indicator is a multilingual and customizable plugin that superimposes Trading Central's technical analysis strategies, forecast, commentary, and key levels (support/resistance/targets/stop pivots) onto MT4 live charts for most tradable instruments.
VPS Service
Exness offers a free VPS service for all traders who deposit at least 500 USD. A Virtual Private Server (VPS) is a remote terminal solution that benefits from reduced latency and downtime, as it is unaffected by power cuts or computer crashes.  Even when the trading terminal is closed, the Exness VPS will keep trading.
Trading Tools Comparison:
Scroll for more details


Exness Educational Content
We found that Exness's education is adequate for new traders but not as good as the best brokers in this space.
Exness Academy: The majority of Exness' educational assistance for new traders can be found in the Exness Academy. Trading education is split into three different experience levels, which is perfect for a new trader wishing to gradually improve their understanding of the Forex market.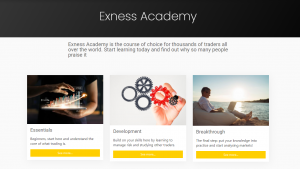 Video Tutorials: Video education is available in five languages, including English, Arabic, Thai, Indonesian and Vietnamese. These bite-sized videos are great explainers of important concepts that all Forex traders need to understand.
Webinars: Exness also hosts frequent webinars in English, Arabic, Thai, Indonesian and Vietnamese. These cover a range of topics and will prove especially useful to new traders. Registering for a webinar does not require an Exness account, though you will have to provide an email address.
Education Comparison:
Scroll for more details


Exness's Customer Support
Notably, Exness customer service is available in English 24 hours a day and over the weekend. However, they weren't able to assist us with some of our queries. 
Client phone support is 24/5 in 15 languages and 24/7 in two languages, including English, and Chinese. Most brokers only offer 24/5 customer service, so this is a bonus for English-speaking traders.
Other forms of contact include live chat, call-back service, phone, and emails. Support is also provided through the Exness help centre which is frequently updated with detailed articles covering everything from trading guides to funding FAQs.
For the purposes of the review, we tested the live chat service and email. Our email is yet to be answered. We found the live chat agents were polite and responsive but unable to answer some of our questions.
Safety and Industry Recognition
Regulation: Founded in Russia in 2008, Exness Group is a relatively new Forex and CFD broker. It has grown rapidly since its inception and now has over 145,000 clients worldwide and is regulated by seven national authorities. In 2012 Exness obtained a licence from the Cyprus Securities and Exchange Commission (CySEC) and moved its headquarters to Cyprus. In 2018, Exness shut down its retail business in the EU and UK in response to tighter restrictions on retail CFD brokers – though it does retain a business-to-business (B2B) service in both regions. See below for more details:
Nymstar Limited is a Securities Dealer authorized and regulated by the Seychelles Financial Services Authority (FSA) with license number SD025.

Vlerizo (Pty) Ltd is authorized by the Financial Sector Conduct Authority (FSCA) in South Africa as a Financial Service Provider (FSP) with FSP number 51024.

Exness B.V. is a Securities Intermediary authorised and regulated by the Central Bank of Curaçao and Sint Maarten with license number 0003LSI.

Venico Capital Limited is authorised by the Financial Services Commission (FSC) in BVI with registration number 2032226 and investment business licence number SIBA/L/20/1133. 

Tortelo Limited is authorised by the Financial Services Commission (FSC) in Mauritius with registration number 176967 and Investment Dealer (Full Service Dealer, Excluding Underwriting) licence number GB20025294.

B2B Only: Exness (Cy) Ltd is a Cyprus Investment Firm, authorized and regulated by the Cyprus Securities and Exchange Commission (CySEC) with license number 178/12.

B2B Only: Exness (UK) Ltd is an Investment Firm, authorized and regulated by the Financial Conduct Authority (FCA) in the United Kingdom under the Financial Services Register number 730729.
Awards
Exness regularly receives industry awards and recently won Best Global Forex Customer Service 2019, Best Global Forex Trading Experience 2019, and Most Trusted Global Forex Broker 2019 at the Global Forex Awards.
Overall, we consider Exness a safe broker to trade with, though with some misgivings. Its retreat from the EU/UK market in the wake of tougher regulation is a concern, but it is regulated in multiple regions.
Evaluation Method
We value transparency and openness in the way we review the partners. To bring transparency to the forefront, we have published our review process. Central to that process is the evaluation of the reliability of the broker, the platform offering of the broker, and the trading conditions offered to clients, which are summarised in this review. Each one of these is graded on 200+ metrics across seven areas of interest, and an overall score is calculated and assigned to the broker according to the diagram below:
Exness Disclaimer and Risk Warning
Trading Forex is risky, and Exness would like you to know that: "CFDs are leveraged products. Trading in CFDs carries a high level of risk and thus may not be appropriate for all investors. The investment value can both increase and decrease and the investors may lose all their invested capital."
Final Word
On paper, Exness is a decent all-round broker for most traders, whether beginner or more experienced. It offers support for MT4, MT5, and its own proprietary platform, 24/7 customer service, low-cost entry-level accounts, and good trading conditions on the Pro Accounts. However, Exness offers high levels of leverage to traders, which, combined with low minimum deposits, could increase their risk of an account wipeout.
Compare Brokers
Find out how Exness stacks up against other brokers.