Pros
Well regulated
Excellent education
Free deposits and withdrawals
Cons
Dealing desk
Wide spreads on its entry-level accounts
Is XM a Safe Broker?
While XM is regulated by some of the world's top authorities, Filipino traders are not as well protected as their international counterparts. 
Regulation: XM is regulated by the UK's FCA and ASIC of Australia, but XM's Filipino clients will be trading through its company regulated by the Belize FSC, which is generally considered a weak regulator. XM also does not provide traders with compensation should the company be liquidated.
Safety Features: Although not required by the FSC, we were pleased to find that XM protects traders by:
Segregating its client funds from company funds in top-tier banks

Providing traders with automatic negative balance protection, which means that traders cannot lose more than their initial deposit. 
Company Details:
Scroll for more details


We confirmed each of the licences and regulations on the regulator's online register. See below for details of XM's FSC-regulated entity:
XM'sTrading Instruments
We were impressed with XM's range of trading instruments, including over 57 Forex pairs, and pleased that it has added cryptocurrencies to its offering.
High Leverage: XM has 60 crypto pairs to trade at 250:1 leverage. This is a large selection of crypto pairs and a much higher level of leverage than other brokers. Leverage is also up to 1000:1 on Forex pairs, but traders should be aware of trading with such high leverage as while it can increase profits, it can also significantly increase losses. 
Full List of Instruments and Leverage:
Scroll for more details


Forex:

XM's range of Forex pairs is around the industry average and includes majors (EUR/USD, GBP/USD, and USD/JPY), minors (NZD/CAD, EUR/JPY, and USD/ZAR), and exotics (SGD/JPY).  

Stock CFDs: The number of stock CFDs available at XM is much more than most other brokers.

 The selection available includes some of the major US companies, including Apple, Amazon, Facebook, Bayer, and Google, among others.  In August 2023, XM also introduced 7 Turbo Stocks.

Turbo Stocks are CFD stock products with leverage of up to 1:200 (which is much more than the leverage of 10:1 on ordinary stock CFDs). Another difference is that the trading of Turbo Stocks begins at the start of the trading day of the underlying asset and ends at the end of the same day. 
Commodities:

XM's range of commodities is average.  These include gold and silver, in addition to softs such as coffee, corn, soybeans, and wheat. 

Cryptocurrencies

: XM has recently added an average range of cryptocurrencies, a good move considering how popular this asset has become.

Equity Indices:

XM's range of indices is slightly limited compared to other similar brokers, and includes the likes of the US30Cash, UK100Cash, US500Cash, the VIX, and the EU50Cash. 

Energies:

XM's range of energies is average and includes Brent, Natural Gas, and Oil.

Shares:

XM's share offering is limited compared to other brokers. 
XM's Accounts and Trading Fees
XM offers three live accounts, which is more than other brokers, and it has average trading fees. It also offers an unleveraged share trading account. All Forex trading accounts can be converted to a swap-free account.
Trading Fees: All of XM's accounts, except its shares account, have a minimum deposit of 5 USD, making them accessible to beginners. No commissions are charged for Forex trading on three of its four accounts, and traders will find spreads of between 0.8 pips and 1.7 pips (EUR/USD), depending on the account.
Account Trading Costs:
Scroll for more details


See below for account details:
Micro Account:

XM's entry-level account, minimum deposits start at 5 USD on the Micro Account, and spreads average at 1.7 pips on the EUR/USD, which is wider than other similar-sized market makers.  However, we found that the spreads were closer to 2.1 pips on the EUR/USD: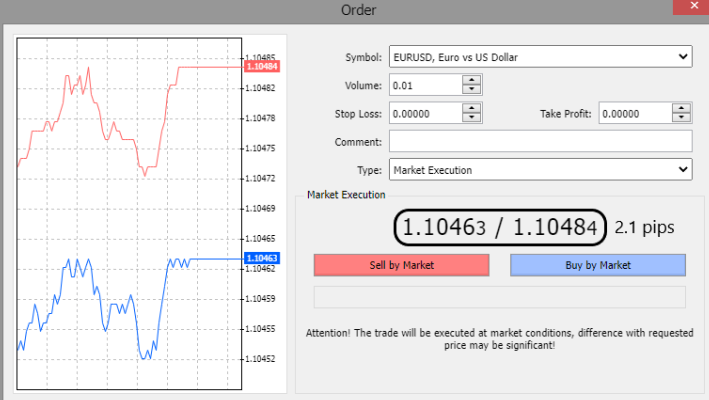 Standard Account:

Like the Micro Account, the minimum deposit requirement is 5 USD, and spreads average at 1.7 pips on the EUR/USD, which is wider than other similar-sized market makers.  

XM Ultra-Low Account: This account also has a 5 USD minimum deposit but spreads average at 0.6 pips on the EUR/USD, which is lower than other similar-sized market makers.  Trading Bonuses are not available on this account, but the XM Ultra-Low account offers swap-free trading for a wide selection of popular instruments such as Gold, EURUSD, USDJPY, EURJPY, GBPUSD and many others. 
Share Account:

Due to the nature of this account, traders are not offered leverage.  Contract sizes are one share, minimum trade volume is one lot, and the spread on this account is as per the underlying exchange.  This account is only denominated in USD.

Islamic Account:

XM offers Islamic accounts for traders of the Muslim faith.  We were pleased to note that XM does not apply any extra charges for Islamic accounts. This is unusual as most other brokers apply an admin fee to Islamic accounts in lieu of the swaps. 
XM's Deposits and Withdrawals
We were pleased to find that all deposits and withdrawals over 200 USD are free. Deposits took less than an hour to reach our trading account, and withdrawals took two days to reach our bank account.
In line with Anti-Money Laundering policies, XM operates a "return to source policy," meaning that withdrawals can only be returned to the original funding source.
Base Currencies: When we opened our account, we noticed that the client portal allows traders to deposit funds in 11 base currencies, including EUR, USD, GBP, AUD, CHF, JPY, RUB, HUF, PLN, ZAR, and SGD.
Because we were depositing funds from a Filipino bank with a PHP trading account, we were charged currency conversion fees on both our deposit and withdrawal. 
Fees: The account funding process is open 24 hours a day and is fully automated. We were very pleased to note that XM covers all transfer fees and does not include any hidden fees or commissions on deposits or withdrawals. However, fees are charged on deposits and withdrawals made by wire transfer under 200 USD, or currency equivalent. 
Once your account has been verified by customer service, you can deposit funds through the client portal: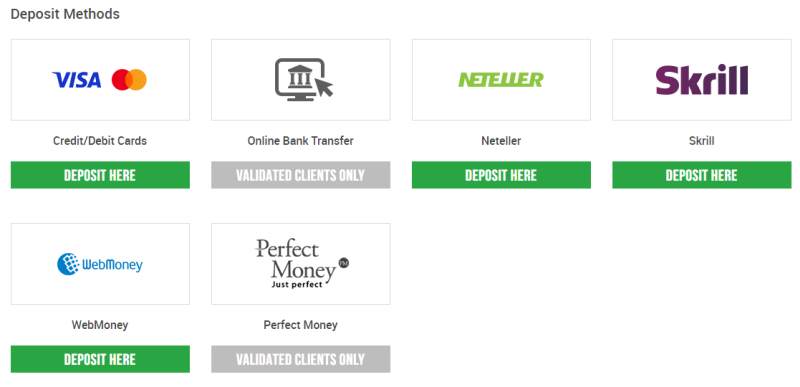 How to Withdraw Funds 
Clients must log in to their accounts.

Click on "Withdraw Funds."

Select the withdrawal method.

Enter the withdrawal amount.
We tested deposits via credit card and found that our payment was processed within an hour, and it took two days for our withdrawal to arrive in our account. These times are about average for the industry. 
See below for more details on XM's deposit and withdrawal methods:
Scroll for more details


Bank Transfer
EUR, USD, GBP, AUD, CHF, JPY, RUB, HUF, PLN, ZAR, SGD
FREE
FREE for withdrawals over 200 USD, 15 USD for withdrawals under 200 USD
Local Bank Transfer within 24 hours, International Bank Transfers up to 5 days.
Mastercard
EUR, USD, GBP, AUD, CHF, JPY, RUB, HUF, PLN, ZAR, SGD
FREE
FREE
Deposits are instant, withdrawals can take up to 3 days.
Neteller
EUR, USD, GBP, AUD, CHF, JPY, RUB, HUF, PLN, ZAR, SGD
FREE
FREE
Deposits and withdrawals are instant.
Skrill
EUR, USD, GBP, AUD, CHF, JPY, RUB, HUF, PLN, ZAR, SGD
FREE
FREE
Deposits and withdrawals are instant.
Visa
EUR, USD, GBP, AUD, CHF, JPY, RUB, HUF, PLN, ZAR, SGD
FREE
FREE
Deposits are instant, withdrawals can take up to 3 days.
XM's Mobile Trading Platforms
Our review found that XM offers three mobile trading platforms, which is more than other brokers, including MT4, MT5, and the XM App. All of the platforms are available on both Android and iOS.
We tested the XM App on an iPhone 11:
We were pleased to find that we could trade directly on the XM mobile app and that it could be linked to our MT4 and MT5 accounts. It was also easy to set up and use. We also found the search functionality was excellent – we were able to search for products by typing the name of the product or by navigating the category folders:
MT4/MT5 Mobile Trading
XM's MT4 and MT5 mobile trading apps offer similar functionality to the platforms' desktop and web trader versions. Traders can access all instruments available at XM (except that share CFD trading is only available on MT5) and access all the same charts. Additionally, all the trading order types are available. The only difference is that the number of indicators is reduced for both the MT4 and MT5 mobile applications.
XM's Trading Platforms
We found that XM offers an average range of trading platforms, including the web trader and desktop versions of MT4 and MT5.
Both MT4 and MT5 are available on Mac and PC.  
For the purposes of this review, we tested XM's web trader platforms.
MetaTrader 4 (MT4) and Metatrader 5 (MT5) 
The benefit of XM offering third-party platforms such as MT4 and MT5 is that traders can take their own customised version of the platform if they migrate to another broker.  Additionally, thousands of plugins and tools are available for both the MetaTrader platforms.  
As you can see, the MT4 Webtrader looks slightly outdated but it is highly customisable. There are three chart types, including Line, Bar, and Candlestick charts and you can access a wide selection of indicators in multiple timeframes. See below:

In our review of MT5 web trader, we noted that it has a great depth of market display: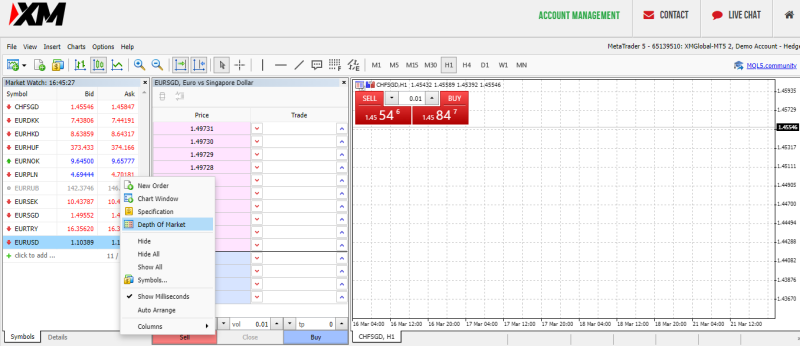 One other benefit of trading with XM is that it offers MT4 Multiterminal, which is not often available at other brokers. It allows traders to open and manage multiple MT4 accounts from a single terminal with one login and password.  
Platform Overview:
Scroll for more details


Promotions
We noted that XM offers a variety of promotional bonuses to new traders, which can be accessed upon sign-up. Traders can follow this link to find out more about its current bonuses and promotions.
Opening an Account at XM
We found XM's account opening process fast and simple. Our account was open in less than a day, and XM's customer support was readily available for our technical and account queries.  
It took us about 5 minutes to open an account at XM, and once our documentation had been submitted, our accounts were ready for trading on the same day. XM's customer support agents were very helpful and provided relevant and immediate responses.
As a Filipino trader, you are eligible to open an account at XM as long as you meet the minimum deposit requirement of 5 USD. 
How to open an account at XM:
We clicked on the "Open an Account" button at the top of the page.

We then filled in our personal details and chose our preferred trading platform (MT4/MT5), base currency, and level of leverage.




We were then required to fill in our financial information and answer questions about our trading knowledge.

To verify our account, we were required to submit a copy of our Filipino ID or Passport with the signature page and a copy of a recent utility bill or bank statement. Our documents were scanned as high-quality digital camera pictures. 
Once all our documents had been received, the account was ready for trading on the same day. 
Overall, we found XM's account opening process is fast and hassle-free. We were also pleased by the quality and responsiveness of XM's customer support.
XM's Research and Trading Tools
We found that XM offers excellent technical analysis tools and that its in-house research data curation far surpasses that of other brokers.  It also offers several proprietary trading tools that are compatible with MT4 and MT5.
Our review noted that XM's market analysis section consists of a Markets Overview, News, XM Research, Trade Ideas, Technical Summaries, an Economic Calendar, XM TV, and a Podcast.  See below for more details:
Markets Overview

: Frequent articles by a third-party provider, Reuters, are available in this section and cover all the latest market news.



News

: All the latest market news, also provided by Reuters, is updated a few times an hour.

XM Research:

The XM Research team provides frequent articles covering technical analysis, Forex previews, market comment, financial markets, special reports, and stock market news.

Trade Ideas

: Provided by a third party, namely Analyzzer, this section covers how the various instruments fare against one another.

Technical Summaries

: This section covers the various trends among the XM's instruments.

XM TV:

Provided daily by XM's in-house team of analysts, XM TV covers Forex News, Technical Analysis, and a Weekly Forex Outlook.

Podcast

: XM's trading podcast, Global Market Insights, provides traders with meaningful and informative content encompassing up-to-date information needed for online investing and updates on global economic events.

Economic Calendar:

XM offers a good economic calendar. It has a filter function where you can filter for countries, data type, and importance.
Overall, we found the research available at XM excellent.
XM also offers several technical indicator tools to help guide traders in their trading decisions, including the following:
Ribbon Indicator

River Indicator

Ichimoku Indicator

Bollinger Bands

ADX and PSAR Indicator

Analyser Indicator

MQL5
Unfortunately, XM doesn't offer the popular third-party tools such as Autochartist or Trading Central, that are commonly available at other brokers.
Trading Tools Overview:
Scroll for more details


Education
Our review noted that XM provides an excellent selection of educational materials suitable for both beginners and more experienced traders. It also offers a demo account that does not expire.  
We found that XM's library of educational materials is world-class and on par with some of the best brokers in the world. Education comprises XM Live, Live Education, Educational Videos, Forex Webinars, Platform Tutorials, and Forex Seminars. These materials are in-depth and well-structured.  We were pleased to note that educational materials are accessible to all XM website visitors, although some sections require registration.  See below for more details:
XM Live

: Available from Monday to Friday 05:00 – 15:00 GMT, visitors can learn about the products and services offered by XM, and trading fundamentals, and have all their questions answered by its hosts.



Live Education:

XM offers the Basic Room for beginner traders and the Advanced Room for more experienced traders. Live Education is essentially a series of live webinars that run from Monday to Friday from 07:00 – 16:00 GMT.  These webinars cover trading fundamentals and trading session analysis.  The Advanced Room also covers topics such as How to Prepare for a Trade, Follow Real-Time Trading, and Live Debates.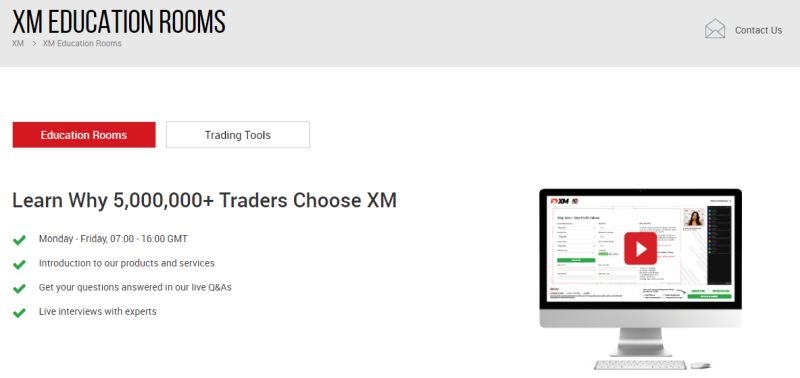 Educational Videos

: XM provides an extensive library of videos that cover topics such as:

Intro to the Markets

Trading Essentials

Fundamental Analysis

Technical Analysis

Money Management

Trading Psychology

Trading strategies

More on Forex Trading





Forex Webinars

: XM offers free webinars presented by 67 highly skilled forex professionals in 19 languages, seven days a week.




Platform Tutorials:

XM's team has developed a vast array of video tutorials that explain the ins and outs of the MT4 and MT5 platforms in addition to the XM trading tools.




Forex Seminars

: XM runs frequent seminars across the globe to educate online investors and help them develop their trading knowledge with the guidance of professional instructors. 
Demo Account:

Ideal for trading practice, as well as for testing trading strategies, XM's Demo Account does not expire and allows you to trade on live markets, risk-free. However, demo accounts that have been inactive for more than 90 days from the last login will be closed, but you can open a new demo account anytime. Please note that a maximum of 5 active demo accounts are allowed. 
Education Overview:
Scroll for more details


Customer Support
Available 24/5, we found XM's customer support agents are responsive and well-trained.
XM's customer support is available 24/5 in over 30 languages via email, phone, and live chat.  
For the purposes of the review, we tested the live chat service and email. Our email was answered within a day, and the answer was relevant and to the point. The live chat agents were able to answer all our questions quickly and to our satisfaction.  They also provided links and extra reading material where appropriate.
After logging into the live chat, we were connected to an agent who replied to our message within a matter of seconds, as shown below:
Safety and Regulation
Regulation: Founded in 2009 and headquartered in Cyprus, XM Group has grown into a large and well-established international investment firm with over 3,500,000 clients worldwide.  XM is a brand name of Trading Point Group and is regulated by the following authorities:  
Trading Point of Financial Instruments Ltd was established in 2009 and is regulated by the Cyprus Securities and Exchange Commission (

CySEC 120/10

)

Trading Point of Financial Instruments Pty Ltd was established in 2015 in Australia and is regulated by the Australian Securities and Investments Commission (

ASIC 443670

)

Trading Point MENA Limited has been approved and regulated by the Dubai Financial Services Board (Reference No. F003484).

XM Global Limited is licensed by the Belize FSC under

license number 000261/397

.
Awards
XM has won numerous awards for its services and offerings over the years, including:
Silver for the COVID-19 HR Action Plan – Business as Usual, in an Unusual 2020 (

Cyprus HR Awards 2020

)

Global Forex Broker of the Year (

Global Forex Awards 2020

)

Best Forex Affiliate Broker Programme – Europe (

Global Forex Awards 2020

)

Most Reliable Broker – Global 2020 (

Capital Finance International Magazine

)

Most Transparent Broker – Global 2020 (

Capital Finance International Magazine

)

Best Online CFD & FC Trading Broker – Global 2020 (

The European Magazine

). 
Overall, because of the long history of responsible behaviour, strong international regulation, and wide industry acclaim, we consider XM a trustworthy and safe broker. 
Evaluation Method
We value transparency and openness in the way we review the partners. To bring transparency to the forefront, we have published our review process. Central to that process is the evaluation of the reliability of the broker, the platform offering of the broker and the trading conditions offered to clients, which are summarised in this review. Each one of these is graded, and an overall score is calculated and assigned to the broker.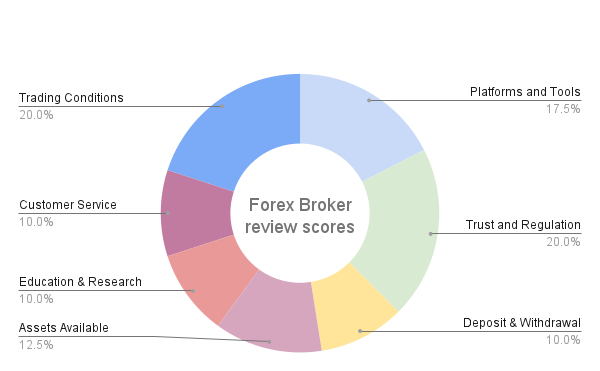 XM Group Disclaimer
Trading Forex is risky, and each broker must detail how risky the trading of Forex CFDs is to clients. XM Group would like you to know that: CFDs are complex instruments and come with a high risk of losing money rapidly due to leverage. 75.33% of retail investor accounts lose money when trading CFDs with this provider. You should consider whether you understand how CFDs work and whether you can afford to take the high risk of losing your money. Please consider our Risk Disclosure.
Overview
A well-regulated market maker broker, XM offers trading on over 1000 instruments, including over 57 Forex pairs and 60 cryptocurrencies.  We found XM's trading conditions are average, with spreads of 1.7 pips (EUR/USD) on its Standard Account and 0.6 pips (EUR/USD) on its Ultra-Low Account.  However, the minimum deposit requirements are low, at 5 USD across all account options, making it good for beginner traders.  
XM also offers trading on the most popular platforms – MT4 and MT5 and allows all trading strategies alongside a world-class repository of educational and market analysis materials and excellent customer service.
FAQ
Is XM Safe?
Yes, it is a trusted international broker. XM is regulated by ASIC in Australia and by CySEC in Europe. They have won multiple international awards.
What assets can I trade at XM?
Forex, stocks, commodities, indices, metals, and energies.
What is the minimum deposit at XM?
Trading accounts can be opened for 5 USD. 
Is XM good for beginners?
XM has some of the best beginner and advanced learning material in the industry, with additional daily market analysis for free to all clients.
Compare Brokers
Find out how XM stacks up against other brokers.